In order to add new users in TaskRay, the user must first be set up in Salesforce.
How to Add New Users to Salesforce
From time to time you will need to add new users to your Salesforce Team. Below are the steps to help you with this.
1. At the top right-hand corner, click on your name then on Setup.
2. On the left hand side panel locate Administration Setup and click on Manage Users and Users
3. Click New User
4. Enter the new users general information such as first name, last names and email address. Note: the email address will be the username for the new user.
5. Select the User License for the new user as 'Salesforce' and then pick the most appropriate Profile for the new user. The user profile will control what permissions the user has.
6. Click Save at the bottom of the form.
Assigning New Users with Permission Sets in Task Ray
After adding a new user to Salesforce you will need to assign them with Permission Sets and Licences in TaskRay. TaskRay is an add-on feature to Salesforce that helps you and your team be more productive, efficient, and collaborative. Not-for-Profit organisations are give 10 licences from TaskRay for free. Any new licence required after the 10 licences have been used will need to be purchased from the TaskRay Website. Below are steps to help you assign permissions and licences to your users.
Assigning Standard Access it is necessary to to assign users the TaskRay - Standard Access permission set.
1. From Setup, navigate to Users then to Permission Sets.
2. Click on TaskRay - Standard Access.

3. Click Manage Assignments.

4. Click Add Assignments.
5. Select users. Note: If you do not see all of the users from your org, you might need to change the View selection using the dropdown.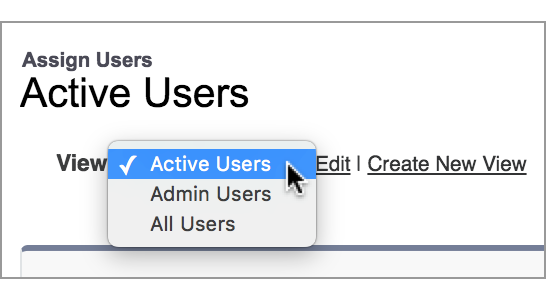 6. Click Assign.
7. Click Done to confirm.
Assigning New Users with Licences
You will need to assign each new user with a TaskRay licence. These licences gives the new user access to the app. The steps below will help you to assign licences to users.
1. From Setup, navigate to Installed Packages.
2. Click on Manage Licences next to TaskRay.
3. Click Add Users.
4. Select users.
5. Click Add.
The original article on assigning permission sets and licences on TaskRay can be found here.