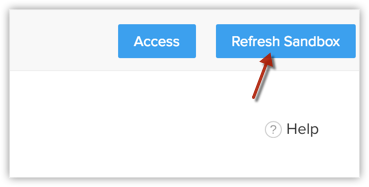 You can refresh you sandboxes based on the type of sandbox. You can refresh developer and developer Pro boxes once per a day. And you can refresh Partial data box every five days. You can refresh Full copy sandbox every 29 days.
To refresh sandbox follow the below steps:
1. Click on
Sandboxes
under
the
setup menu
which
will
show the
following screen.
2.
A list of your sandboxes displays. Sandboxes that you can refresh have a Refresh link next to their name. Now click on
Refresh
button which you want to Refresh.
3.
Review the
Name
(10 Character
s
or fewer) and
Description
, and edit these values if needed.
4.
Select the type of sandbox environment you want. A table shows the number and type of sandbox licenses available in your org. You can select a different sandbox type to refresh.
5.
Select the data you want to copy.
i) For a Partial Copy sandbox:
If you are refreshing a Partial Sandbox, click

Next

, and then select a template to specify the data for your sandbox.
If you have not created a template for this Partial Copy sandbox, you are required to create a template first as follows:
Click on

New Sandbox Template

, It will redirect you to a new page where you have to enter

Name, Description

for Sandbox template and select Objects

(

By Selecting check-box for each object) as per your requirement and Click Save.
If you are refreshing a Full-copy Sandbox click

Next

, choose

All

in

'

Object Data Included' and enter

SandboxRefresh

in the field

'

Apex Class' to make sure that a script runs automatically that can change settings that are needed.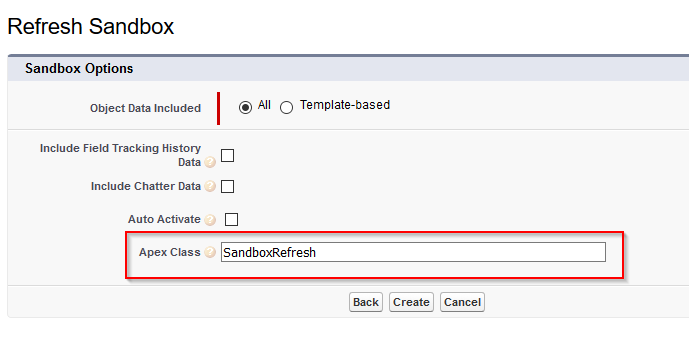 To include all object data in a Full sandbox, choose whether and how much field tracking history to include, and whether to copy Chatter data. You can copy from 0 to 180 days of history, in 30-day increments. The default is 0 days. Chatter data includes feeds, messages, and discovery topics. Decreasing the amount of data you copy can speed sandbox copy time.
6.
If you want to activate your sandbox immediately after you refresh it, select
Auto Activate
. In this case, you don't receive an activation email.
8.
Refreshing your sandbox can move it to a different Salesforce instance. For example, the sandbox can move from CS40 to CS50. Salesforce starts copying data to the sandbox. If you didn't select
Auto Activate
while refreshing your sandbox, Salesforce sends you an email when your sandbox is ready to activate.
You can then Login to your Completed Sandbox